You Didn't Attend Milan Design Week 2018? Here's What You've Missed!
Sunday 22 April 2018
You Didn't Attend Milan Design Week 2018? Here's What You've Missed! – Today marks the final day of the Milan Design Week, one of the main design events in the entire planet! If you haven't had the opportunity to stop by Milan this past week, then you can't miss this article because we'll give you all the information you need to know! Here's CovetED recap of the Milan Design Week!
---
⇒ Subscribe our Newsletter and be up-to-date with CovetED Magazine ⇐
---
During the Milan Design Week, there were thousands of events scattered around the city and we can say for sure that every single one of them was worth visiting.One of the main events of the Milan Design Week was the famous Salone del Mobile, better known as ISaloni. The 2018 Edition took over the Fieramilano area and could be described as a Design Celebration.
More than 2.000 Exhibitors were present in this popular trade show that during the week received thousands of visitors from all over the world! Amongst those 2.000 Exhibitors, we can stand out a few top brands that gave a stunning showcase at the event.
One of them was famous and iconic brand Kartell. They're display involved eight platforms, each for a project representing a macro-theme of the corporate strategy: new research into wood, with the WOODY collection; a focus on BIO themes and new materials; innovation of the SMART TABLES; the placing of value on essential and universal design for the OUTDOORS; the new proposals for LIVING and SITTING; the shapes and plays of light of the LIGHTING line; and, last but not least, the recent collaboration with La DoubleJ for investing the living with colours. It was a stunning stand that during the week received several luxury guests, namely Patricia Urquiola or Philippe Starck.
We can also say that the stands of the luxury brands of the Luxury Living Group were amongst the top highlights. Those brands include Fendi Casa that also presented took advantage of the 22nd edition of Eurocucina to present a new segment: FENDI Cucine This new band symbolizes a collection of kitchen products for a luxury kitchen segment. Amongst the Luxury Living Group, we can highlight the presence of the Lombardia Area brand Trussardi Home that produced at ISaloni a strong showcase of luxury furniture. The stand of Bentley Home was also one of the highlights of the fair!
Luxxu also brought their new furniture collections to Milan, both Home and Lightning. They fully accomplished their mission to inspire the design world with the brand's luxurious and timeless designs, evoking the brand's mission: bringing boldness and distinctiveness into the design world.
Speaking of Lightning Designs, CovetED would also like to evoke the presence of DelightFull. This luxury brand is already a reference to the industry and at ISaloni they shined with some new stunning pieces. They shared the spotlight with their sister brand Essential Home. This mid-century modern luxury brand brought to Milan a classic novel with characters that will stay in your everyday vocabulary. We stand out the new piece inspired by Hollywood Legend Greta Garbo.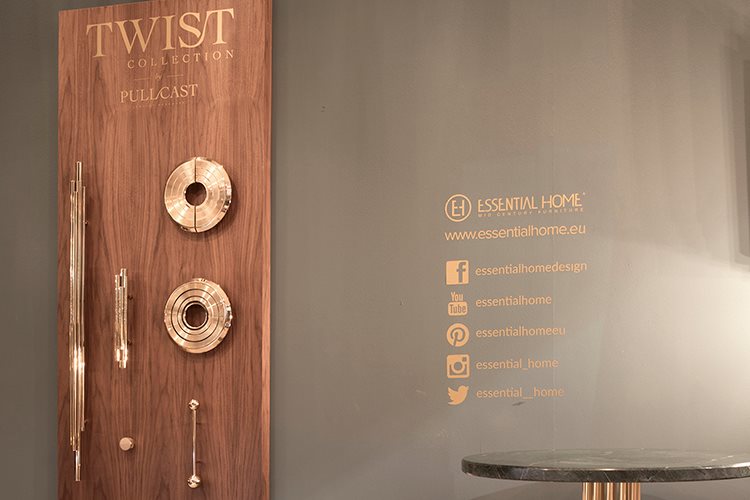 After the assertion of the brand at Maison et Objet 2018, Pullcast took center stage at Milan with their new products and a stunning new Twist Collection inspired by the designs of DelightFULL and Essential Home! This collection was a hit amongst hardware fans and helped this brand establish itself has one of the best surprises of the event!
Let's move along to the showcase of Poltrona Frau. This modern furniture brand presented a modern collection made entirely in Italy by the best contemporary designers. They are at the top of the European Luxury Market and, after what we saw, we can assume they will keel in that spot for many years!
Also from Italy, we stand out the luxury stands and collections of two top names of Italian Fashion & Design: Versace Home and Roberto Cavalli Home! These are two of the most renowned brands in the world and they prove their status at ISaloni with a strong, elegant and amazing collection of products for any luxury home in the world!
You should also know that Molteni went all in at this event. They had a double showing in Milan during Design Week for the Molteni Group companies: Salone del Mobile.Milano for Molteni&C and Eurocucina for Dada. There were two huge exhibition spaces. Molteni&C almost doubles its showcase compared to last year's Salone in addition to the Milan Flagship Store new display.
Edra made an expert use of the skills which are present in the area and succeeds in developing innovatory products, revolutionizing in some instances the traditional production of padded furniture. Their stand at ISaloni was one of the most elegant ones at ISaloni and that's why they even won a Covet Award for Best Sidetable!
But the CovetED Award for the Best Stand was given to Gessi. This is a spectacular bathroom brand that took CovetED's breath away with their new stunning collection and their nature-inspired stand! Famous agency Frame also gave out an award for Best Stand to the luxury Swiss brand USM that presented at ISaloni one of the most extravagant and powerful stands of the entire event.
The new Cappellini stunning collections were also on display at ISaloni in a scenery made of vivid and white light, obtained through neon to emphasize the stylistic language of this project, to enhance the fading colors and add value to the textures on the surface. In a reference to the lighting design by Dan Flavin and neon scenography by Lucio Fontana, as well as the use of light as an architectural element, Cappellini defined the ephemeral design experience where objects are deprived of their functionality and become icons of themselves. The end result was also stunning.
You can also say that Boca do Lobo was at the top of their game at ISaloni. This luxury brand from Portugal brought to Milan their most iconic designs and focused their energy in promoting their bespoke design excellence. They also managed to combine their contemporary design pieces with Lladró's handmade porcelain in the same environment, creating a luxurious and statement area that lovers of design will fall absolutely in love for art and craftsmanship.
Within the famous Covet Group we can also highlight the presence of BRABBU. They presented new pieces, namely the Bakará Desk, and continue to pursue the theme of a Design Apartment in their stand They also showcased their stunning partnerships with PullCast and Aldeco.
Other highlight brands included Vitta, Missoni Home, Piet Boon, Gautier, Dedon Da A, Knoll, Diesel Living, Moroso, Glass Italia, Flexform, Gervasoni, Emmemobili, Citco or Antonio Luppi.
But the Milan Design Week was much more than just the ISaloni Event. Around the city of Milan in several Design Districts, namely at Tortona, Brera, Isola, 5 Vie and Ventura, there were thousands of events that captured our attention.
We can highlight the stunning installations of Dimore Studio at Via Solferino. This iconic Milanese design studio put together some amazing art exhibitions with a focus on the design industry. The end result was simply stunning!
At the Isola Design District, Stecca 3.0 Gallery dominated all the attention with shows and art exhibitions that completely emerged the audience in a new state of design and inspiration!
At Via Savona 56 in Tortona,  Moooi promoted a real voyage of discovery called A Life Extraordinary! This was a stunning showcase of a universe of mystical worlds and points of view inspired by the extraordinary diversity of life and the powerful product design of this brand.
Another important event was the Alessi's "The Five Seasons" designed by Marcel Wanders that took place during the week at Alessi Flagship Store in via Manzoni 14-16.
Another highlight was the B&B Italia Outdoor Showcase Collection at Chiostri dell'Umanitaria via San Barnaba 48. For all the outdoor aficionados, this was an unforgettable experience.
The crystal giants Swarovski have a couple of flagship stores in Milan but they provided the full Swarovski experience at Palazzo Serbelloni's (Corso Venezia, 16) hidden courtyard. Inside a custom-built greenhouse, the Austrian brand offered a pop-up Daniel's Café, that served Viennese pastries, and a retail shop where visitors could purchase its atelier collections and jewelry. At this improvised stand, Swarovski also showed off it's new home collections that include pieces designed by famous designers of the likes of Nendo, John Pawson, and Patricia Urquiola.
In Tortona, at the Super Design Show, Nendo presented a stunning art inspired exposition that was one of the best highlights of the entire Design District. In a more automobile feel, Lexus' passion for design led them to organize a mega event in Milan were they showcased its newest concept: the innovative Lexus LF-1 Limitless that hints at future design thinking from Lexus.
At the three main Art Galleries of Milan: Nilufar, Dilmos and 10 Corso Como, there were events all week long that promoted design, inspiration, quality and elegance. Famous names like Rossana Orlandi, Philippe Starck, Marcel Wanders, Nendo, Piero Lissoni, Dimore, Analogia Project, Lindsey Adelman, Baciocchi Associati, Ilaria Balduino Sartori, Nicolini / Bertocco, CRD studio, Cristina Celestino, Maarten De Ceulaer, are exhibited, Francesco Faccin & Francesco Meda, Vibeke Fonnesberg Schmidt, Martino Gamper, Nuala Goodman, Gupica, Carlo Massoud, Claude Missir, Atelier Lavit, Massimiliano Locatelli, Xavier Lust, David / Nicolas, Federico Peri, Hannes Peer, Analogy Project, Roberto Rota, Osanna Visconti di Modrone, Kiki Van Eijk, Vasconcellos Barreto, Bethan Laura Wood and Zanellato / Bortotto were all present in those events!
In addition to this new breath of light, Preciosa also showcased a selection of both historic chandeliers and stylish pendants at their privileged location in the Brera Design District. At their stand, we could find the glittering radiance of crystal glass lighting shining brightly and a beautiful hall from the early 20th century.
We must also highlight the big presence of design legend Rossana Orlandi at the Milan Design Week. She was one of the main protagonists of this event and her personal gallery was definitely one of the places to be during this event!
♦ ♦ CovetED Goes Behind-the-Scenes at Salone del Mobile 2018! ♦ ♦
---
⇒ Read Also: CovetED Awards' Thrilling 4th Ed. Presented at Salone del Mobile 2018  ⇐
---
♦♦ Feel free to share your thoughts about this article and come celebrate design with us! For more trends and information, follow and subscribe to CovetED Magazine! Follow us on our social networks: Facebook | Twitter | Instagram | Pinterest | Google Plus | LinkedIn ♦♦